Monaco Diplomat
Motor Home SpecialistThe #1 Volume Selling Motor Home Dealer in the World!
*
Monaco Diplomat RVs for Sale at Motor Home Specialist, the #1 Volume Selling Motor Home Dealer in the World as well as #1 Monaco RV dealer.
Hello and welcome to Motor Home Specialist, the #1 volume selling motor home dealership in the world. This luxury diesel pusher motor home along with the Diplomat's sister product, the Holiday Rambler Scepter are true stand outs in their class and an unprecedented value when purchased here at Motor Home Specialist. Now a few of the truly unique features we here at Motor Home Specialist felt this coach needed when being updated included adding an independent front suspension system with 60 degree wheel cut and even more exclusively to feature the Ultra Steer passive tag axle that follows the coach's ideal turning path resulting in an up to 17% reduction in the curb to curb turning radius. When combining these two features what you get is unrivaled steering capabilities far superior to the industry norm. A few of the other items Motor Home Specialist felt were necessary included the Diplomat's dual zone electric heated floors for a far more consistent heating and an available residential size and fully tiled shower in select models. These features and many others that you will see in this video make the Diplomat and Scepter models arguably the best value in their price points. They are currently available in a unique array of bath & 1/2 floor plans including the 43DF, 43SF, and 43SG models. They are powered by the Cummins ISL 450HP diesel engine and rides on the strength of the custom tuned Roadmaster chassis  which,  for the very first time, comes with the full support and proven expertise of Freightliner Custom Chassis and its nationwide service network with over 400 locations, many of which include RV-dedicated Oasis locations. And with 24/7 Direct, new 2016 model and newer owners will receive direct access to factory technicians who can respond to all inquiries and technical issues.
But before we get too far into the nuts and bolts of what makes the Diplomat and Scepters so different from their competition, We think it's always good to know a little bit about the manufacturer themselves and what makes them so different within the recreational vehicle industry as well. Monaco along with Holiday Rambler, Fleetwood RV and American Coach are all a part of the REV Group.Rev is theparent company of 23 current brands of specialty vehicles including transit, shuttle and city buses long with mobility vans, terminal trucks, fire and rescue vehicles and much more. Their Recreational division includes some of the most iconic makes and models ever produced in the industry and they are all now available at Motor Home Specialist with our upfront and everyday low sale prices that have made us #1. Each of the Rev Group companies hold either the #1 or #2 positions in their respective markets. They currently generate approximately $2 Billion dollars in annual revenue, utilize 3.9 million sq. ft of manufacturing space and have over 300,000 vehicles currently on the road today. For up to date information visit http://www.revgroup.com/
The front cap of the Diplomat is not only unique in design, but also houses a 10,000 kilowatt Onan quiet diesel generator with AGS on a power slide-out tray. Additional power sources include a 2,800 watt Pure-sine wave inverter, an optional solar panel and a 50 amp service cord with the all important power cord reel.
The Diplomat is kept cool in the summer by its (3) low profile roof A/C units and kept warm in the winter by its diesel fired Aqua Hot Heating system. The Aqua Hot's power is provided by one or a combination of energy sources including directly from the coaches diesel fuel tank and the A/C shore power. Using a single boiler the Aqua Hot system transfers intense heat to water that flows through the heating system loops and is then released through exchangers with low speed quiet fans creating comfort zones with even and perfect heating both floor to ceiling and front to rear. At the same time the boiler is creating a continuous supply of hot water. Continuous supply equals no recovery time and consistent hot water on-demand throughout the coach. 
The construction of the Diplomat is nothing short of incredible boasting not only a 5-Layer Floor w/ 3" Foam Insulation, but also a 6-Layer Radius Roof w/up to 5" Foam Insulation and the roof's exterior is a true One-Piece Molded Fiberglass top. You will also find Acoustic Absorption Material in the Front, Rear & Engine Compartment as well as  Seamless Cap to Sidewall Transitions and a Vacu-bond® process is utilized in the Sidewalls, Roof, Floor & Rear Wall of the coach. The vacu-bonding process on the Diplomat applies up to 415,000 pounds of vaccum pressure for over 30 minutes far exceeding the industry standards. The sidewalls themseleves are a Gel Coat Fiberglass with w/No Wood Substrates used virtually eliminating any and chance of delamination or future wall seperation. Finally the walls are beatufully painted and a highly labor intesnsive process of color sanding and buffing the Diplomat to a high gloss finish is performed. But as impressive as all of that is, perhaps the actual skeleton of the Diplomat is what is most unique to its build. Monaco utilizes a trademarked reinforced interlocking wall-joint system that integrates the floor, sidewalls and roof assembly into one combined super structure that is literally locked together for long term performance and durability. 
The Roadmaster chassis we spoke of earlier is actually Huck-bolted at several key points on the chassis so the fit is true every time and provides the strength that can only found in a huck-bolted system which is more common place in the production of freight trains than it is in RVs. Furthermore the Roadmaster chassis features many of the premier names in suspension and driving performance including Neway air-ride suspension with large volumetric air bags, Sachs custom tuned shocks and an Allison 6-speed automatic transmission. You'll also enjoy such amenities as 4-point hydraulic and fully automatic leveling jacks, automatic traction control, dual fuel fills, front air disc brakes, maintenance free chassis batteries and multiple pass-through storage areas with an available slide-out cargo tray and a one-touch power lock & unlock feature for all of the exterior storage doors.
Behind the wheel of a Monaco Diplomat, you'll have a multitude of features at your command. With an incredible list of driver and passenger comforts as well as an incredibly well designed cockpit that makes it all that much easier to just sit back, relax and enjoy the freedom of the road ahead. 
Get yourself perfectly situated behind the wheel of the Diplomat using its 6 way power adjustable seats, power adjustable gas & brake pedals and the tilt and telescoping Smart wheel from Freightliner. Notice many of the more commonly used driver functions are mounted right into the Smart Wheel itself. The automotive wrap around dash provides, not only, easy to view instrumentation and gauges but also cleverly keeps the cab A/C and heat better directed and kept in the cab area. The large one-piece windshield along with chrome side view mirrors and integrated 3-camera monitoring system give the Diplomat exceptional visibility around the coach especially when changing lanes. The dual dash monitor setup allows you to keep the camera system on at all times while still being able to access the touch screen radio & GPS navigation system... and the controls for the Allison transmission are literally at fingertips reach. A few additional driver conveniences and safety features include 3 point seatbelts, an anti-lock brake system, a two stage engine brake, power & heated mirrors, a power sun shade and front privacy curtain, USB port, cup holders, a Freightliner digital information center and a solid surface power step well cover. 
Additional exterior highlights include: Dura-Shield front paint protection, frameless windows, Led running lights as well as back-up and brake lights, power patio and door awnings, slide-out room awning toppers, available window awnings, an exterior entertainment center with outside speakers and stereo with blue-tooth capabilities and another USB port, frameless dual pane windows, a removable ladder, a rear hitch, an optional rear escape door in select floor plans, a lighted exterior grab handle, a screen door and automotive quality chrome insignias rather than the normal painted on versions more commonly found.
And once inside I think you'll find the Diplomat to be an ideal combination of convenience and elegant design. Notice the amazing attention to detail in the carved wood window valances, slide-out room fascias and decorative moldings. The 43DF and 43SF models share a common floor plan with the exception of the master bath. The DF features a large his and her sink arrangement with vanity chair and round radius shower while the SF utilizes a single sink basin and offers an extra large fully tiled shower and optional emergency rear exit door. Both offer ample wardrobe space. You will find exceptional livability throughout both of these models including a large hide-a-bed sofa with air mattress, an L-shaped extendable sofa, a large forward facing LED TV and premium sound system, another TV in the front cab and your choice of either a booth dinette or table and chair arrangement. Notice all of the abundant storage, solid surface table and counter tops including this one behind the sofa with integrated cup holder. The decorative ceiling feature is tastefully done and the fully heated tile floors are absolutely beautiful regardless of your choice in interior decors.
The kitchen is not only beautifully tiled and spacious in design, but offers premium brand appliances and abundant storage and counter top space as well. The pullout kitchen island and storage cabinet is sure to come in handy and I think you'll also enjoy the innovative induction cook top, the stainless steel convection microwave oven, the huge side by side residential refrigerator and the stack washer and dryer set.
The half bath is as beautifully appointed as the master and the spacious bedroom design features all of the amenities that make this room more like a personal retreat and a very comfortable and relaxing area of the home. You'll find available upgraded mattresses, a ceiling fan, a deep bed slide with side windows for cross ventilation, custom bedding and an extra deep slide here at the foot of the bed. This extra deep and full wall slide out room gives the Diplomat more square footage throughout especially noticeable here in the master bedroom. bedroom storage along with cabinet and drawer space are all standouts in these floor plans as well.
And with the addition of the new 43SG and Monaco and Holiday Rambler's commitment to bringing new and innovative designs to the market place each year the future of these incredible luxury motor homes have never looked brighter. but before you consider the purchase of a new Monaco, Holiday Rambler or any new motor home for that matter there is one more thing you need to know and if you're buying a new motor home this is without a doubt the most important information you'll hear in this video when it comes to ensuring that you and your family get a fair deal regardless of where you purchase your next motor home. When buying a new motor home be sure to check the MSRP or the manufacturer's suggested retail price. 
We offer over 100 different models of new motor homes from 15 of the most well known and iconic brands in the RV industry including. Each are committed to producing quality products and offer something distinctly different in both style and function.
Visit MHSRV.com today for pricing and maybe take a few minutes to read a couple of our now almost 3000 5-star customer reviews and see what they had to say about their experience here at Motor Home Specialist.
All of the above information was at time of posting March, 2016 and provided by a multiple amount of sources including, but limited to Monaco Coach, Revgroup.com, fleetwoodrv.com, americancoach.com, aquahot.com and holiday rambler.com - For complete and up to date details on all of the Monaco RVs available at Motor Home Specialist, including the Monaco Dynasty, call 800-335-6054.
Click here to view Monaco Diplomat RV Reviews.  
Manufacturers options, features, colors, etc. can all change without notice and MHSRV assumes no responsibility for the changes or possible errors in information provided by the manufacturer. All weights and measurements are approximate and not guaranteed to be 100% accurate. For the latest information be sure to check with your salesman and or the coach manufacturer and verify before purchase.
Floorplan:
SE 43Q Bunk Model, Bath & 1/2, Sat, King
Length:
43′ 5″ Approximate*
Exterior:
Chestnut Bronze
Interior:
Manhattan Bronze III & Italian Sienna
Engine:
Cummins ISL9 450HP
Chassis:
Roadmaster by Freightliner IFS & UltraSteer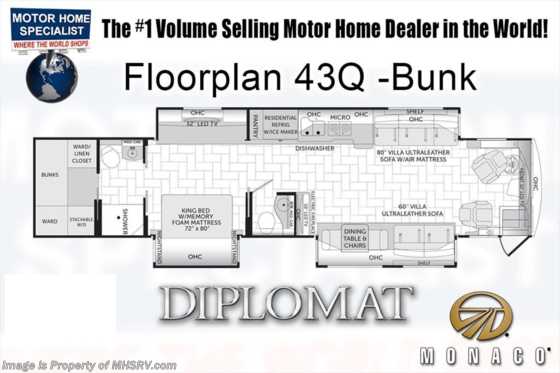 Manufacturer changes and/or options may alter floor plan of unit for sale.