Fleetwood Flair LXE
Motor Home SpecialistThe #1 Volume Selling Motor Home Dealer in the World!
*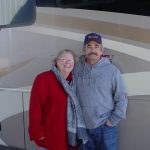 This was wonderful. You guys made it uneventful and no pushy sales gimmicks'. The prices are the best!! Thanks!
Read Fleetwood Flair LXE Reviews 
Fleetwood Flair LXE
The Fleetwood Flair LXE is loaded and packed with modern features and comfortable amenities. The Fleetwood Flair LXE boasts exclusive standards and options that will undoubtedly enhance the experience of your road trip. Fleetwood RV dealers have made sure that the vehicle when compared to other accomplished RV models doesn't get sidelined when it comes to luxury and style.
The Basic Features of the Fleetwood Flair LXE
In order to ensure customer satisfaction, Class A RV dealers at Fleetwood RV provide four floor plans for the premier Fleetwood Flair LXE Class A motorhome. Each configuration has its own range of benefits that highlight the elegance and finesse of the Fleetwood Flair LXE. Moreover, the RV has full basement storage ensuring that you won't leave anything behind on your journey. Also, the high gloss cabinetry in the entire coach is simply perfect for keeping whatever residential needs that you want to bring along for convenience. If you plan to spend a lot of time entertaining outdoors while on your RV vacation, then the legless power awning with LED light strip and campground exterior entertainment center in the Fleetwood Flair LXE RV will definitely come in handy.
A Detailed Interior Analysis
Fleetwood RV has equipped the Fleetwood Flair LXE with maximum conveniences and luxuries for its passengers and the drivers as well. If you take a look at the interiors of this Class A motorhome, you'll realize that the amenities and the options provided are nothing short of being spectacular. The interior amenities that you can't help but adore include composite tile flooring, central monitor panel, hardwood flat panel cabinet doors, and relaxing and comfortable furniture. The drivers as well do not get left behind, especially with features like cruise control, side view cameras and remote heated power mirrors. The interiors of the Fleetwood Flair LXE RV are exceptionally designed for you and your guests. You can stay entertained in the living area by the presence of a 32 inch LED widescreen TV and a DVD player. Also, the bathroom in the Flair LXE is so luxurious that you'll feel as if you never left the comforts of your own home. The bathroom is installed with Dometic China bowl toilet, molded shower with a tub, large residential sink and many more lavish amenities.
Perfect for Long Distances
The 2018 model of the Flair LXE maintains the refined exterior quality of its predecessors. It has a high gloss gel Vetrolite ultra thick fiberglass skin without any wood substrates, making the vehicle suitable to be driven in all weathers. Additionally, the optional upgrade of premium full body paint makes it an ultimate choice for traveling long distances across the country with supreme confidence.
Floorplan:
31B Bunk House for Sale at MHSRV.com W/2 A/Cs
Length:
32′ 9″ Approximate*
Interior:
Infinity Sterling & Autumn Wheat
MHSRV Sale Price:
$84,999
41% Discount
$58,848 Savings
Payments: $504 (w.a.c)*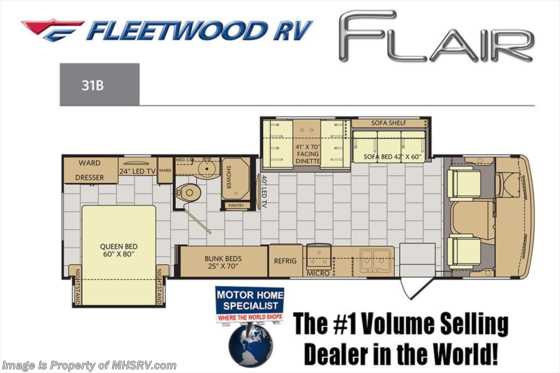 Manufacturer changes and/or options may alter floor plan of unit for sale.
Floorplan:
31W W/ Jacks, Ext TV, OH Loft
Length:
32′ 8″ Approximate*
MHSRV Sale Price:
$89,900